Jehova Es Mi Pastor; Nada Me Faltará
Escritos de Jessica Fernández











Anuncios Importantes

¡Alcanzando mil almas para Cristo!
El Ministerio Evangelismo Con Fuego "Jesús es el Rey" se goza en invitarlo a la Campaña Evangelística "Alcanzando mil almas para Cristo" donde estaremos anunciando las buenas nuevas a toda criatura, poniendo por obra mil Biblias con milagros, señales, sanidades y salvación.
La campaña se llevará a cabo en el mes de julio en el Gimnasio Nº 1 del Estadio Modelo situado en Corona Sueca 8325, Comuna de Pudahuel de la ciudad de Santiago de Chile (Ver mapa). El día 18 de Julio 2009 desde las 19:00 hrs.
P.D. ¡La campaña ya está CONFIRMADA, pero le pedimos a todos los hermanos que nos ayuden a orar por ello, pues, estamos envueltos en este avance apostólico profético en anunciar las buenas nuevas a toda criatura, sólo queremos enaltecer el nombre de Dios anunciamos el evangelio, el cual dijo Jesús "Id por todo el mundo y predicad el evangelio a toda criatura" (Mr.16:15)!
Para más información sírvase llamar al número 6439429 ó al 79294011.
¡¡Gracias y que Dios los bendiga!!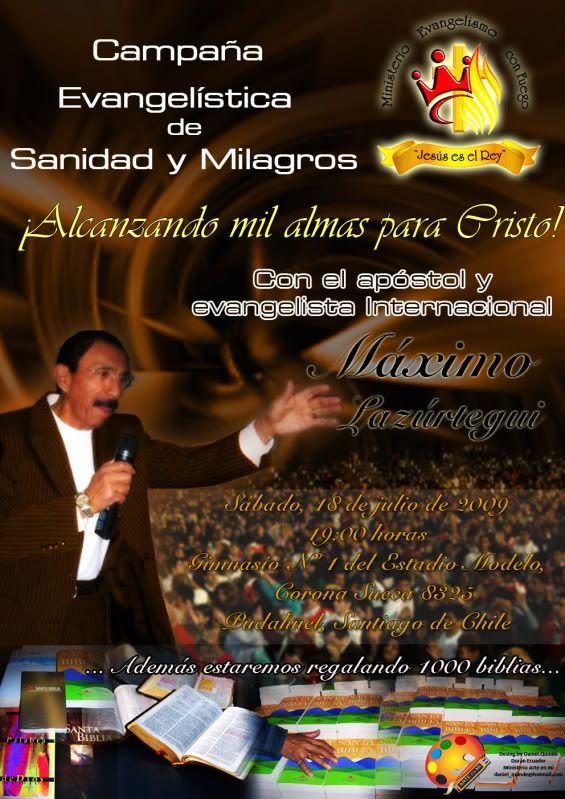 ---
Los últimos comentarios acerca de esta página:
Comentado por asianfanfics( Asianfanfics68

gmail.com ),

04-10-2018, 04:06 (UTC)

:
Your mission is very good. I enjoyed your missionaries.
---
Comentado por Antalya Airport Transfer( info

transfer24.net ),

13-11-2014, 15:36 (UTC)

:
Low cost antalya airport transfer to hotels & private residences using a modern fleet of fully licensed & insured vans. We will take you from Antalya Airport to your destination and back in comfort and safety, at a low price and with great customer service.

Transfers to/from Side, Belek, Antalya, Kemer, Manavgat, Alanya, Okurcalar, Port Akdeniz, Lara, Avsallar, Incekum, Konakli, Mahmutlar, Kargicak, Finike, Gocek, Dalaman, Tekirova and Camyuva. Pick up on time at the airport or hotel and without stopovers to your choosen destination.

---
Comentado por dell speakers( erinrrivera

hotmail.com ),

12-12-2013, 21:54 (UTC)

:
Your work is deserved to be appreciated hard working efforts done in your blog.
---
Comentado por Speakers and Headsets( erinrrivera

hotmail.com ),

21-10-2013, 20:39 (UTC)

:
great) liked everything very much) keep it up and dont stop)
---
Comentado por who can write homework paper( kassedas

mail.com ),

03-10-2013, 15:03 (UTC)

:
In general qualified educators from many developed countries are predisposed to take each and every secondary students assignment very personally. They require young learners to pay attention to every detail in writing homework and make reasonable inquiries. As a result you and me can expect it to deliver quality writing on any kind of given topic or even academic research for university or any popular college.

---
Comentado por management dissertations( LMI

gmail.com ),

17-07-2013, 10:31 (UTC)

:
Attractive! This was an incredibly magnificent blog post . Thank you for provide this knowledge.

---
Comentado por essay writers review( iiiiiidy

hotmail.com ),

25-06-2013, 09:32 (UTC)

:
I thoroughly enjoy your blog posts and I consciously put into practice your concepts as they allow us to..
---
Comentado por master-essays.com( asasfrb_costa

hotmail.com ),

21-06-2013, 19:44 (UTC)

:
Please do keep up the quality writing
---
Comentado por click here( lolipop

gmail.com ),

03-04-2013, 09:16 (UTC)

:
Good music, good mood! thanks for informative post!)

---
Comentado por Alex777( mobilife1

yahoo.com ),

27-11-2012, 06:51 (UTC)

:
Very sorry that summer was over there quickly. But how not cool to get back to everyday life. Thank you for your blog. Visit us <a href="http://jogos-do-cassinos.com.br/poquer-online">poker do brasil</a>
---
Comentado por narrative essay( kendraperkins

yahoo.com ),

04-09-2012, 07:10 (UTC)

:
This blog widen my views about different religions and beliefs all over the globe. Though we have different views and opinions, we are only one nation and we have one God!

---
Añadir comentario acerca de esta página:
Jehová Es Mi Pastor; Nada Me Faltará